New Project O21 by Greenforest at Orgatec, Kologne
Savu Anca
At the most important fair dedicated to workspaces, ORGATEC Koln (October 25-29), GreenForest is launching the Office Twenty One (O21) Project.
The O21 project consists of four premium product lines, based on the TAKTIL BUREAU product design, high-end materials, such as veneer, plywood, Fenix laminates, metal elements and the GreenForest manufacturing quality.
The TRES product line has MDF tops laminated with Fenix in white and black colors, natural oak legs and painted metal elements. The TRES line consists of an office table with dimensions of 180 x 80 x 75H cm, exhibited at Orgatec, a meeting table with dimensions of 210 x 100 x 75H cm and another table with dimensions of 240 x 120 x 75H cm. The TRES products are assimilated into the GreenForest portfolio.
ROTOLA is a line of products intended for flexible workspaces. It consists of a mobile table, on wheels, with dimensions 120 x 120 x 74H cm, metal structure, MDF top laminated with fenix, and another mobile table with similar design and materials, but with a height of 110H cm.
ARC is composed of two exhibited products, an office table with a unique design and a banquette developed in the same line. The products are defined by the black oak veneer and a unique metal structure.
The two-person sharedesk with partition wall is the O21 interpretation of GreenForest's new RECON collection. The O21 version of this line includes an oak veneered plywood top with partition wall and a special set of O21 brand metal accessories.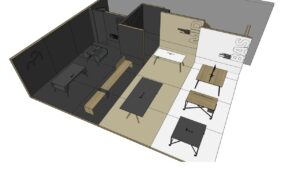 For a complete experience with these products, we are waiting for you at Orgatec, in Koln, between October 25 and 29, or in the GreenForest Timişoara showroom.

Koln/Kologne
25-29.10.2022
 GreenForest – Hall 7, Stand E-040