Welcome to Timisoara 2023 – European Capital of Culture
Savu Anca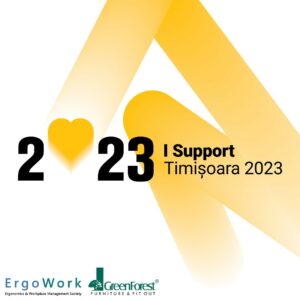 From January 1, Timisoara holds the title of European Capital of Culture for 2023 in Europe. For one year, Timisoara will be the host of a series cultural events such as exhibitions, concerts, plays and many more happenings.
GreenForest, through the partnership with ErgoWork Society, supports the Timișoara 2023 – European Capital of Culture program throughout the whole year. ErgoWork Society is close to UPT projects and FABER – Bright Cityscapes, as well the program UVT – Reflections, parts of Timișoara 2023 – European Capital of Culture.
Bright Cityscapes was initiated with the aim of creating a design laboratory for the Timișoara city – one interested in observing, responding and acting on contemporary emergencies, through the discipline of design, architecture or digital culture. Bright Cityscapes is close to the spirit of the UrbanLink 15′ project, developed by ErgoWork with the contribution of GreenForest.
UrbanLink 15′ is a collaborative research and development initiative for the workplace, for the living communities and for the relations between the working places and the living spaces according to the concepts of "Hybrid Work" and "15 Minutes Cities".
The Reflections program is conected to the Meaning & Fusion of Work. Reflections, proposes a series of interdisciplinary conferences and debates, workshops and artistic events with themes from the sphere of street art, urban regeneration, design thinking and others, including pop up events in rural areas.
Meaning & Fusion of Work happenings propose a broad interdisciplinary reflection, debate and research, both scientific and cultural – artistic perspectives, on key questions about the society evolution.
Stay close to see the happenings: https://timisoara2023.eu/en/